October 8th, 2019
Buying an electric toothbrush from your dentist has its P.E.R.K.S.
Curious about the difference between a manual and an electric toothbrush?
Click link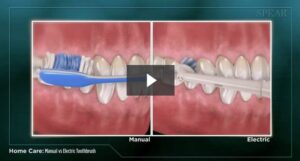 https://spearedu.co/xQJ8x2x
To keep your mouth clean and healthy, did you know you should be changing your toothbrush or toothbrush head every 3 months? Waterpik tips should be changed every 6 months.
When you purchase your electric toothbrush or Waterpik through our office, we throw in a free brush head or tip at every hygiene visit. October is National Dental Hygiene Month so we are running a limited time offer on our Oral-B electric toothbrushes and Waterpiks.
When you give someone a gift that involves their health, the gift's impact runs deeper. It means you took some time out of your day, thought deeply about the person, and wanted to help them. Why? Because you care about them.
Happy National Dental Hygiene Month from YOUR Registered Dental Hygienists:
~

April and Tammy~