June 9th, 2020
Are you hiding more than germs under your mask?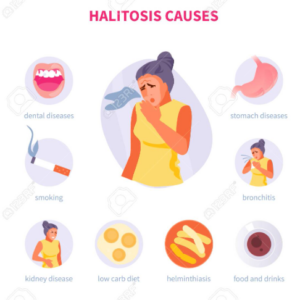 Have you heard the new term "mask breath"?
Now that you're wearing a face mask, if you have noticed an unpleasant odor, it's likely caused by your own bad breath. This could have been something happening for quite some time but you never noticed because you weren't forced to notice. Now that your breath is "in your face" you can't ignore it.
How Can I Get Rid Of Bad Breath?
Get on a solid oral hygiene routine:

Brush at least twice a day
Brush your tongue (especially toward the back)
Gargle with antibacterial mouthwash (especially at night before bed)
Floss daily

Have your teeth and gums evaluated by Dr. Bryan and his hygienist. During your annual periodontal (gum) evaluation by your hygienist, they will check your gums for pocketing which can be the culprit of odor-causing build up in between the tooth and gum tissue.

If you are diagnosed with periodontal disease, treat it immediately to rid your mouth of smelly bacteria and germs. Periodontal disease treatment cannot be performed at home.
What If the above doesn't help? Sometimes bad breath (chronic halitosis) has many possible causes, including:
Diseases of the teeth, gum, or tonsils
Heart Disease
Lung issues
Smoking Regurgitating food
Zenker diverticulum. A pocket in your espoghagus where food can embed and bacteria grow
Tonsil stone: A crevice in your tonsils where debris can collect and harden, and bacteria can grow.
If you notice bad breath that doesn't go away with good oral hygiene, including a visit to the dentist...the next stop would be to see your primary care physician. Remember to keep all of your preventive care appointments with Dr. Bryan and his team to keep the bad breath bacteria away!